LOUISE LAMBERT – BIO
The Musician's Musician ..made more special by the Aloha that Maui is known for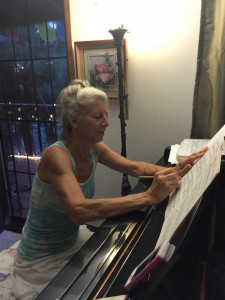 Nothing can replace the experience that a lifetime of singing and playing music provides, beginning with family sing alongs as a child and moving on to stellar collaborations later in life. Going beyond the wealth of professional engagements and associations, Louise possesses a unique talent that brings out the best in students, band members and vocalists she is involved with. Music is a very personal thing for everyone, and her ability to establish the kind of warm relationships that put people at ease is not something one finds every day. At larger events, the entire venue comes alive, inspired by her own special Spirit of Aloha, known on Maui as both joyous and sacred.
Whether you choose to fine tune your musical skills, rediscover them or develop new ones, you'll experience the kind of inspiration that let's you fully express your personal best.
Vocalist, Pianist, Bandleader and Entertainer 
New York native, Louise Lambert is a unique vocalist, pianist and bandleader providing world class musical entertainment for special events as a Solo, Duo, Small Combo or Dance Band. Raised in a musical family, born into Boogie Woogie, nurtured in Musical Theatre and Motown Sounds, Louise has a broad range of musical styles including Smooth Jazz, Swing and Sweet Soul. Louise is often compared to Annie Ross, Diana Krall, Norah Jones, Billie Holiday, Aretha, Ella and Sarah. In a Louise set you may also hear Van Morrison, Smokey Robinson, Ray Charles, Marvin Gaye, Fats Waller,
Louis Jordan, James Brown and Count Basie tunes!
Louise is a multidimensional performer with expertise in music direction as well as song writing, improv theatre, musical theatre, clowning and voice coaching. Her professional career has lead her to perform throughout continental U.S., Hawaii, Canada and Europe, from intimate weddings and clubs to major concert halls, festivals, fairs and conventions.
Louise Lambert – Lyricist and Composer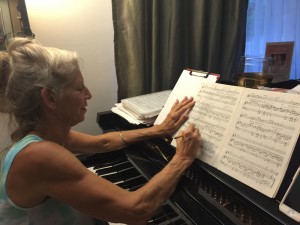 Louise began her musical career on television at age five and continues to appear internationally. An accomplished lyricist and composer, Louise currently enjoys radio play with her song "Peace in Our Hearts" and also writes music for film and T.V. Louise co-writes songs with recording artists including Rikah, a.k.a. Merika, Bryan Way and Alanis Morissette. She sang on, co-wrote and co-produced Cindy Paulos's debut CD, "There Is  A Forever". She has also written songs for The Pointer Sisters and The Spinners, and inspirational songs for Spiritual Teachers and Authors including Yogi Bhajan, Ram Dass, Darlene Strickland and Raphael Cushnir.
Professional Engagements on Maui
Louise makes her home on the magical island of Maui where she appears at many of the islands finest resorts – Grand Wailea, Fairmont Kea Lani, Four Seasons, Westin, Hyatt and Sheraton.  Smaller venues include Three's Bar and Grill, Sargent's Fine Art, Ambrosia, Poolside at the Maui Coast Hotel, and on luxurious cruise ships around the Hawaiian Islands. Louise was the lead vocalist for the Maui Symphony Jazz Orchestra which is now Lisa Owens' Moonglow and Maui Jazz Allstars, and she sang on and produced Maui Mayor's Ball television series.
Louise brings her music both near and far
Louise has studied Music and Theatre at the State University of New York, and developed her artistry in Toronto, Canada. She performed at the Edinborough Fringe Festival of Scotland, the Werld Kinderfest of Holland, World Yoga Festival in Loche, France, and Peace Prayer Day in New Mexico. She has appeared at My Father's Place and Cosmopolitan Lounge in New York, The Sutton Place, Crowne Plaza, Canadian National Exhibition and Ontario Place of Toronto, Puccini's of Beverly Hills, Gengis Cohen of L.A., The Palmer House of Chicago, the U.S. Grant, California Cafe and Horton Plaza of San Diego, The Riviera, The Rio and MGM of Las Vegas, Marriotts, Hiltons, Ritz etc..throughout North America. Louise has also appeared as lead vocalist for John Liddle's Big Band and The Canadians of Toronto.
Her appearances in Las Vegas include Chianti Cafe, Benedict's, Capozzoli's, The Bootlegger Bistro, Cafe Nicole, Casa di Amore, The Italian American Club and singing with Carl Lodico's Big Band.
Louise has opened shows for The Cherry Poppin' Daddy's, Bryan Adams, Flip Wilson, Jim Carrey, Martin Mull, The Smothers Brothers, Buddy Rich, Little Anthony and the Imperials, James Brown and The Coasters. She has been asked to open shows for Gino Vanelli and Tina Turner.
She has sung with Robert Goulet, David Clayton Thomas, Roberta Flack, Zoot Simms, Moe Koffman, Ruth Brown, Sweet Louie, Tommy Alvarado, Dennis Mellen, Joey Gian, Sid Smith, Ricky Wade, Paul Dioguardi, Joe Sealy, Norm Amadio, Jose Ortiz, Neto Peraza, Omar and Curtis Lee. She has recorded with Howard Shore, Arnold Lanni, Mark Matson, Bob Plotnik, Joel Katz, Kris Thomas, and Curt Lee and has done extensive work as a studio vocalist for album projects as well as voice overs and commercials, which she also writes and produces.
Her fans include Buddy Greco, Nancy Wilson, Allanah Myles, Shirley Eikhard and her voice student Alanis Morissette.
Voice and Piano Lessons on Maui as well as Coaching Skills for Entertainers on the musical stage
Louise gives voice seminars and workshops worldwide and has students in London, Las Vegas, Toronto, Maui and Broadway Shows. Her singing audio course, "Vocalastics" which she developed and teaches, is now available on CD and soon to be released on DVD.
As an actress, Louise held leading rolls in First Love, The Pirates Of Penzance, The Mikado and her own one woman cabaret show; Love Addict, to name a few. She is developing a new "Women in Blues" show and often produces and performs in 'really big' Beatle Sing Alongs with Maui's finest musicians and singers.
Louise plays Jazz, Swing, Cabaret, Pop, Latin, Country, Old School and Rhythm & Blues from the 1900's to the 2000's – defying all barriers in categorization! From Concert to sing alongs, easy listening and background sounds, smooth jazz and love songs to Motown and dance party!!!